By Steve Roth
Unemployment rates are at a five-year low according to the US Labor Department. As recently as April 27 of this year, 324,000 people filed initial unemployment claims. Unemployment reached a peak on March 28, 2009 when 670,000 people filed the initial claims. January 6, 2007 was the last time the number of initial unemployment claims was as low as they are at the end of April.
With those numbers in mind, some people say that it is because the economy is doing better. According to the U.S. Treasury, the country has seen steady economic growth since the 2nd quarter of 2009.
Variation by State
In March of this year, the unemployment rate in North Carolina was 9.2% compared to 9.4% in February of this year and in March of 2012.
For former Elon student, Devin Donnelly, he has seen the benefits. Though Donnelly has not officially walked across the stage yet, he finished up his coursework in January and has been looking for work since October.
"I had applied to a few jobs and gone on a couple of interviews in the fall with no luck," Donnelly said. "So when Winter Term ended, I put a lot more effort into the job search."
For Donnelly, not hearing back from jobs was only the beginning. He was also faced with deciding if he wanted to go back to work near his home in Pennsylvania or here in North Carolina or elsewhere.
While North Carolina's unemployment rate (as of March 2013) was at 9.2%, Pennsylvania's was at 7.9% and had gone up since last year.
Donnelly said he applied for around 10 to 15 jobs and went through about five interviews before hearing back from the company he now works for, in mid-March.
He is now an "Order Management Coordinator" for Pepsi Co. in Chicago, Illinois. In the same month (March of 2013), the unemployment rate for Illinois was 9.5%, higher than both Donnelly's home state and the state of the school he spent three and a half years at.
The Future of one Company
Donnelly, who interned with Pepsi Co. last summer and is now working for them full time, believes the company has not gained or lost any noticeable number of employees in the past year or so.
"Because Pepsi is in the food and beverage industry," Donnelly said. "I would guess that they hire based on how much demand for their product there is."
He says that demand for their product could increase or decrease at any time but that it typically means only moderate changes in employment for Pepsi Co.
"The economy obviously has a big effect on hiring…" Donnelly said.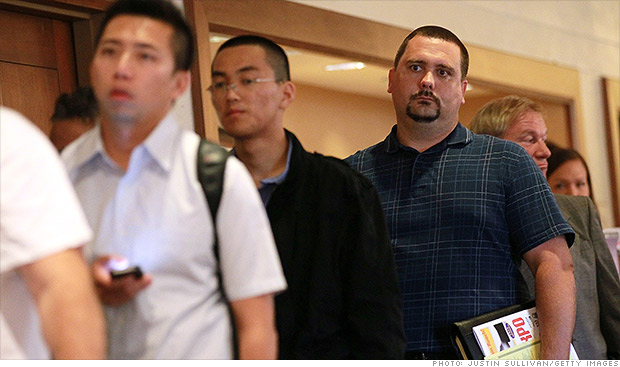 Donnelly also mentioned the importance of adapting to changes in their customers and their preferences.
"Companies are constantly trying to become more efficient and cut their expenses," Donnelly said. "So if they feel that adding employees can create process improvements, I can definitely see more companies hiring in the future."
While competing with Coke products, over the last few years, Pepsi Co. has been putting more of a focus on digital advertising and reaching its followers on social media and elsewhere online to try and bring in new customers. More customers means more demand for the product and as Donnelly suggested, more demand could lead to more employees.
For now, Donnelly will work to make sure Pepsi orders are filled and run smoothly and he couldn't be happier with his recent job acceptance. "This is the most beautiful sight these eyes have ever seen," Donnelly said, quoting a favorite movie.